Big Bear Pizzeria & Deli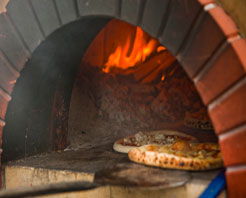 Our cuisine entrees are served in a relaxed and welcoming setting that you and your friends and family are sure to enjoy. Whether you are in the mood to indulge in something new or just want to enjoy some old favorites, we promise that our inventive menu and attentive service will leave you truly satisfied. No matter what your occasion calls for or your appetite demands, the friendly staff promise to make your next dining experience a pleasant one.
Pizza, Deli/Sandwich/Soup/Salad
LOCATION AND HOURS
Hours
Monday
6:00 AM - 10:00 PM
Tuesday
6:00 AM - 10:00 PM
Wednesday
6:00 AM - 10:00 PM
Thursday
6:00 AM - 10:00 PM
Friday
6:00 AM - 10:00 PM
Saturday
6:00 AM - 10:00 PM
Sunday
7:00 AM - 10:00 PM
MORE DETAILS
Amenities




TV

Atmosphere




Family / Children, Outdoor Dining

Attire




No Dress Code
Payment Methods




Cash Discover Mastercard Visa
MENU
Pizza
Toppings: pepperoni, sausage, italian sausage, beef, canadian bacon, bacon, onions, bell peppers, pineapple, green olives, black olives, mushrooms, extra cheese, jalapenos, tomatoes, sauerkraut, pickles
Thin Crust available in 14"
---
Specialty Pizzas
Kodiak
chicken bacon ranch
Mama Beer
bacon cheeseburger
---
Personal Pan Pizzas
---
Appetizers
Buffalo Chicken Strips
$4.79
---
Lunches
served M-F 11 - 2
Lunches
$5.75
choose between 3 - 4 different entrees w/mashed potatoes, vegetable & bun or homemade soup (in season) or homemade pasta, salad w/sandwich
---
Salad Bar
available M - F 11 - 7
---
Breakfast
served daily 6 - 10 a.m.
2 eggs, w/toast, ham or sausage
$4.99
French Toast
$3.99
3 slices
French Toast
$4.99
2 slices w/sausage or ham
Omelet (3 eggs, 2 fillings) w/toast
$5.39
'Big Bear' Omelet (cheese, ham, onions, peppers, mushrooms) ham browns & toast
$6.99
---
Deli Sandwiches
meat choices: roast beef, ham or smoked turkey. Make any sandwich a basket (fries & fountain) for add'l - $2.29
Club
$4.19
choice of meat, cheese, bacon, 1 lettuce, tomato on split top bun
Sub
$4.39
choice of meat, cheese, mushrooms, peppers, onions, lettuce, tomato
Croissant Supreme
$4.59
turkey, ham, bacon, cheese, lettuce, tomato
Philly Cheese Steak
$4.79
beef, peppers, onions, cheese on toasted bun
Juicy Bear Burger
$4.89
mozzarella cheese sandwiched between 2 beef burgers topped w/lettuce & tomato
Wrap: BLT, Taco or Chicken Bacon Ranch
$4.29
choose between a spinach, jalapeno cheddar or plain tortilla
---
Dessert
Hand Dipped Ice Cream
cones: cake, sugar, waffle shakes & malts
---
Do you like this restaurant?
Big Bear Pizzeria & Deli Reviews

Back to Top