Bliss Restaurant & Catering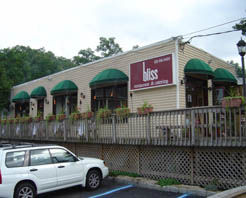 Welcome to Bliss Restaurant & Catering, Setaukets premiere destination for gourmet cuisine and impeccable service. Accented by soft lighting and elegant decor, Bliss Restaurant & Catering aims to please and succeeds in doing so. The professional staff caters to its guests' every need making sure not to cut corners and only offering the finest, highest quality ingredients. The menu is vast and eclectic showcasing an impressive selection of French-American cuisine specialties. Treat your guests to an evening that they won't soon forget The professional and friendly staff at Bliss Restaurant & Catering looks forward to making your next dining experience truly unforgettable.
American, Bar/Gastro Pub/Wine Bar
LOCATION AND HOURS
Hours
Monday
4:00 PM - 12:00 PM
Tuesday
4:00 PM - 10:00 PM
Wednesday
4:00 PM - 10:00 PM
Thursday
4:00 PM - 10:00 PM
Friday
4:00 PM - 11:00 PM
Saturday
4:00 PM - 11:00 PM
MENU
Appetizers
Stuffed Bell Peppers
$11.00
Feta & basil - balsamic reduction
Short Rib Tacos
$11.00
Pico de gallo - sour cream
Eggplant Caponata
$10.00
Onions, celery, tomatoes, capers, olives Toast points
Jumbo Lump Crab Cakes
$16.00
Red pepper remoulade
Fried Calamari
$16.00
Roasted garlic cream
Black Pepper Shrimp
$16.00
Julienne vegetables - meyer lemon
---
Salads / Soup
Bliss
Mandarin oranges, tempura zucchini, baby greens Pignoli nut oil, mint orange vinaigrette
Classic Caesar Salad
$9.00
Parmesan toast
Chop Salad
$13.00
Dried cranberries, blue cheese, bacon, candied walnuts, greens Balsamic ginger vinaigrette
Radish, Feta & Cucumber Salad
$12.00
Baby greens - pistachio puree
Toscana Salad
$13.00
Polenta, fresh mozzarella, crispy prosciutto, spaghetti squash, baby greens Italian vinaigrette
---
Entrees
Butternut Squash Ravioli
$19.00
Brown butter - crispy sage
Fire Roasted Ahi Tuna
$29.00
Soba noodles - sweet teriyaki
Free Range Chicken Breast
$19.00
Haricovert, baby carrots, roasted fingerling potatoes, marsala wine
Filet Mignon Au Poivre
$34.00
Bacon & cheddar mashed potatoes - sautéed spinach
Chicken Kiev
$19.00
Porcini mushrooms, cognac peppercorn, truffle oil
Pan Seared Sea Scallops
$28.00
Fava bean risotto - charred onions
Hangar Steak Frites
$25.00
Spicy chimichurri - pickled red onion
Pork Chop Milanese
$21.00
Greens, tomatoes, onions, fresh mozzarella Citrus vinaigrette
Red Wine Braised Boneless Short Ribs
$19.00
Gorgonzola mashed potatoes
Rigatoni Bolognese
Veal & pork meat sauce - shaved parmesan cheese
Pignoli Nut Crusted Red Snapper
$19.00
Over a roasted garlic cous cous Topped with a fresh pineapple salsa
Pot Roast & Pasta Sheet Millefeuille
$19.00
Sautee of sweet peas, carrots & zucchini Truffle oil & parmesan cheese
New Zealand Rack of Lamb
$29.00
White bean & vegetable ragout
Pan Seared Salmon
$26.00
Quinoa, wild mushrooms
Wild Mushroom Risotto
$18.00
Parmesan cheese, fine herbs, black truffle butter
---
Side Dishes
Mashed Potatoes
Sour Cream & Chive Mashed Potatoes
Hand Cut Fries
Sautéed Spinach
Buttermilk Tempura Onion Rings
Baked Mac-n-Cheese
Meatballs
Grilled Asparagus
---
Bar Bites Menu
Available @ the bar & outside deck - 1/2 price during happy hour
Italian Nachos
Tomato meat sauce, Mozzarella cheese
Old School Meatballs
Pasta sheets, Plum tomato sauce - fresh basil
Baked Mac-n-Cheese
Bacon & bread crumbs
Pizza Margherita
Plum tomato sauce, Mozzarella cheese
Chicken Wings
Asian or Spicy, Celery & blue cheese
Thai Calamari
Sweet garlic chili
Spinach & Artichoke Dip
Crispy tortillas
Grilled Shrimp
Julienne vegetables, Fresh squeezed lemon
House Made Hummus
Crispy tortillas
---
Do you like this restaurant?
Bliss Restaurant & Catering Reviews

Back to Top