Country Platter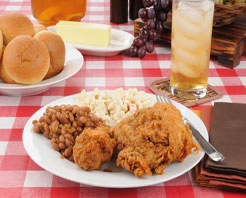 The menu at Country Platter features a wide array of great selections, made from only the freshest and highest quality ingredients, with something sure to please every member of your group. Country Platter has established itself as one of the area's favorite culinary destinations and is sure to offer you a pleasant and unique dining experience every time you visit. Please stop in soon!
LOCATION AND HOURS
Hours
Tuesday
7:00 AM - 2:00 PM
Wednesday
7:00 AM - 2:00 PM
Thursday
7:00 AM - 2:00 PM
Saturday
7:00 AM - 3:00 PM
MENU
Entrees
all entrees are served with hush puppies, sweet or regular tea
---
Desserts
Desserts: are all $1.99
Peach Cobbler
Blackberry Cobbler
Pound Cake
Cream Cheese Cake
---
Drinks
All drinks are $1.19
---
Do you like this restaurant?
Country Platter Reviews

Back to Top