Gauchos Churrascaria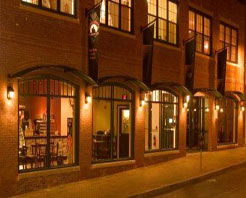 Leave your ordinary day outside and relax in our South American escape. Pull up a seat at our own Brazilian pampas and dine like the legendary gauchos of the past century, enjoying the delicacy of churrasco-prepared prime meat, skewered and slow-cooked to its mouth watering best. Relaxing music and the wafting aromas complete the convivial atmosphere as our traditionally dressed Gauchos servers roam the dining room. Ready to Serve You. When you dine with us, you are joining in time-honored Brazilian history. Savor the incomparable flavor of Brazilian grilling and the homemade tastes of our salads. Sit back with a glass or bottle of your favorite vintage from our wine cellar or enjoy a caipirinha from the bar. Linger over your dinner, enjoy your company, and soak up the ambience of the Gauchos Churrascaria dining experience. Veale pronto!
LOCATION AND HOURS
Hours
Monday
4:00 PM - 10:00 PM
Tuesday
4:00 PM - 10:00 PM
Wednesday
4:00 PM - 10:00 PM
Thursday
4:00 PM - 10:00 PM
Friday
4:00 PM - 10:00 PM
Saturday
4:00 PM - 10:00 PM
MORE DETAILS
Atmosphere




Family / Children, Bar Scene, Fireplace

Attire




Casual
Payment Methods




Cash Diners Club Discover Mastercard Visa
MENU
Starting Course
each salad has its own distinct flavor, with fresh ripe vegetables and fruits and dressings that accent the tastes rather than overpower them.
Traditional House Salad
A Tomato And Cheese Insalata
Delicious Blend Of Peppers
Cucumber Salad
Pasta Salad
Exquisite Pineapple Salad
---
Main Course
Filet Wrapped In Bacon
faixa enrolado con bacon.
Prime Rib
alcatra - gauchos favorite.
Chicken Wrapped In Bacon
peru enrolado con bacon.
Pork Loin
lombo de porco.
Pork Ribs
costela de porco.
Chicken Hearts
coracao de frango.
---
Desserts
Bindi Desserts
whether its a taste of chocolate, fruit, or cheesecake, you can find something to satisfy your sweet tooth.
Chocolate Fondant Cake
with alternating layers of chocolate sponge cake and chocolate cream, covered with dark chocolate ganache and rimmed with chocolate flakes.
Tiramisu
three soft layers of sponge cake soaked in coffee, rum flavored, filled with zabaglione cream and dusted with rich cocoa powder.
Starbucks Coffee
Cappuccino
Espresso
---
Do you like this restaurant?
Gauchos Churrascaria Reviews

Back to Top