L.A. Cafe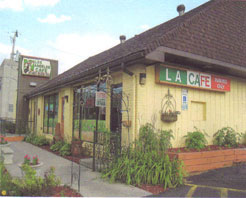 L.A. Cafe is a family restaurant chain serving the Will county and Cook county areas. We strive to provide only the best for our customers. We offer authentic Mexican food as well as popular American favorites. We also have a great breakfast menu for anyone interested in stopping by for an omelette or a traditional Mexican breakfast!
American, Mexican/Southwestern
LOCATION AND HOURS
Location
22325 Governors Hwy
Richton Park, IL 60471
(708) 747-4440

Get Directions
Hours
Tuesday
7:00 AM - 2:00 PM
Wednesday
7:00 AM - 2:00 PM
Thursday
7:00 AM - 2:00 PM
Saturday
7:00 AM - 2:00 PM
MORE DETAILS
Atmosphere




Romantic, Family / Children

Attire




Casual
Payment Methods




Amex Discover Mastercard Visa
MENU
Available for Dine-in or Carry-Out! All dinner entreés served with beans and rice. Free complimentary chips & salsa included per table
Mexican Favorites
choice of beef, chicken, or steak
Taco Plate
3 tacos topped with onions, tomato, lettuce, and cheese
Hot Steak Tacos
Juicy steak tacos with added cilantro
Enchiladas
3 enchiladas made with our homemade mole sauce
Quesadillas
Hot, tasty quesadillas made with melted mexican cheese
Mini-burritos
3 mini burritos stuffed with meat, veggies, beans, and cheese
Flautas
4 flautas with meat inside. Topped with tasty ranchero sauce and cheese
---
Tijuana Caliente Dinners
The best of the best
Fajitas
hot and juicy, grilled to perfection. Steak, Chicken, Shrimp, and Combo too!
Steak Burrito Supremo
A huge burrito stuffed with steak, veggies, sour cream and cheese, topped with ranchero sauce and melted cheese
L.A. Carne Asada
Broiled steak, juicy and tender
Mariachis
Broiled steak with bell peppers, tomatoes, and grilled onions
---
Combination Platters
Can't decide on what to get?
L.A. Combination
Very popular! 1 taco, 1 enchilada, 1 tostada, 1 flauta, & a mini-burrito!
Vegetarian Plate
1 guacamole taco, 1 bean tostada, 1 cheese enchilada, 1 quesadilla, and a mini-burrito
Mexican Plate
1 beef taco, 1 bean tostada, 1 potato & chorizo enchilada & 1 mini burrito
Combo Fiesta
1 tostada, 1 enchilada, 1 taco, and a mini-burrito
---
Drinks
Full stock of drinks!
L.A. Café Margaritas
Available in Lime, Strawberry ,Raspberry ,Mango, Pina Colada, and Peach flavors!
Mexican Imported Beer
A whole stock of Imported beer including Corona, Modelo, Dos Equis, and Tecate
Traditional Beer
All the American favorites
Mexican Soda
Colorful mexican Jarritos, available in Strawberry, Pineapple, Fruit Punch, Lime, and more!
---
We are always offering all sorts of different specials at our locations. Stop by and ask for daily specials!
Ala Carte Party Package!!!
Pickup or Delivery Available 20% Delivery Charge added. Only $8.95 per person + tax
Cheese Quesadillas
Enchiladas (potato and chorizo)
Combo Fajitas (steak + chicken)
Hard/Soft shell tacos (choice of beef or chicken)
Flautas and Mini-Chimichangas
Beans and Rice
Tortillas (corn or flour)
Our Famous chips & Salsa
Fresh guacamole
Sour Cream
Jalapenos
Extra hot green salsa
Tasty Bunuelos for dessert!
---
Do you like this restaurant?
L.A. Cafe Reviews

Back to Top