L'Osteria Ristorante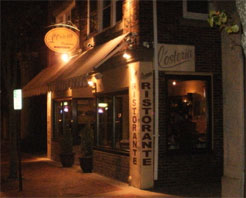 Once you step through the doors of this neighborhood Bistro you immediately feel like you grew up coming here. L'Osteria will quickly become one of your favorite restaurants for that intimate dinner with a loved one or your next family get together. Patrons are saying L'Osteria is the place to go for a fantastic meal in the lovely, little neighborhood of Cranston. The cuisine is fresh and authentic, and the hospitality is top notch. This is the place to go when you really want traditional Italian home cooking.
LOCATION AND HOURS
Location
1703 Cranston St
#5013
Cranston, RI 02920
(401) 943-3140

Get Directions
Hours
Tuesday
4:30 PM - 9:30 PM
Wednesday
4:30 PM - 9:30 PM
Thursday
4:30 PM - 9:30 PM
Friday
4:30 PM - 10:30 PM
Saturday
4:30 PM - 10:30 PM
MORE DETAILS
Attire




Casual

Amenities




TV, Private Party Room
Atmosphere




Romantic, Outdoor Dining, Family / Children
Payment Methods




Amex Discover Mastercard Visa
MENU
Antipasti / Appetizers
Bruschetta
$10.95
with goat cheese, white beans, mushrooms, sun dried tomatoes and garlic
Northern Bean Bruschetta
$9.95
with beans & onions over garlic oil grilled bread
Mozzarella Bruschetta
$8.95
tomato, fresh mozzarella, extra virgin olive oil, basil over garlic bruschetta
Sauteed Calamari
$11.95
with garlic, white wine, fresh herbs and sliced cherry peppers
Sausage and Broccoli Rabe Piatto
$11.95
served with sharp provolone cheese, chili and garlic
Antipasti Della Cucina
$19.95
with imported meats, cheeses, vegetables and olives
Roasted Littleneck Clams
$12.95
with pancetta and tomato over garlic grilled bread
Carpaccio of Beef
$11.95
traditional paper thin beef with a chiffonade salad of Arugula and truffle oil
Pancetta Wrapped Shrimp
$12.95
with white bean ragout and truffle oil
Scallop Sautee
$12.95
pasta, porcini, and caciotto cheese with sauteed scallops and toasted crumbs
Portabello Mushroom
$9.95
topped with artichokes, roasted red peppers and goat cheese
Mussels
$11.95
white bean, fresh tomato, garlic, chili flakes and herbs in a seafood broth served with garlic oil grilled bread
Zuppa Del Giorno
soup of the day (seasonal)
---
Insalata / Salads
Mixed Field Greens
$6.95
with fresh mozzarella, tomatoes and garlic confit vinaigrette
Classic Caesar
$6.95
romaine lettuce, herbed croutons and Parmigiano-Reggiano dressing
Arugula
$7.95
with plum tomatoes, Pecorino Romano tossed in a lemon vinaigrette and finished with white truffle oil
Caprese
$8.95
classic tomato and mozzarella with fresh basil and extra virgin olive oil
---
Grilled Pizza
The Basic
$11.95
marinara sauce, sharp provolone, fresh mozzarella, parmigiano reggiano cheeses
Pollo Pesto
$13.95
grilled marinated chicken, basil pesto and goat cheese
Pizza Con Funghi
$12.95
sauteed field mushrooms and fresh spinach with gorgonzola cheese
Rabe and Sausage
$13.95
with asiago and parmigiano cheese
---
Primi / Pasta
Pasta L'Osteria
$14.95
grilled marinated chicken breast in a marinara sauce and finished with mascarpone cheese
Pollo Pesto
$15.95
penne pasta, marinated grilled chicken in a pesto cream sauce
Tortellini Boscaiola
$16.95
pancetta, portabella mushrooms & onions in a light mascarpone cream sauce
Tagliatelle
$14.95
with grilled chicken, tomato and Arugula in a spicy saffron chicken stock
Fettucini alla Carbonara
$15.95
fettucini pasta with roasted shallots, pancetta, cream, peas and parmigiano reggiano cheese
Tagliatelle Bolognese
$15.95
with a classic meat sauce
Farfalle Notte
$15.95
with sausage, Arugula, plum tomato, cherry peppers & gorgonzola cheese
Orecchiette Colore
$14.95
broccoli rabe, tomatoes, roasted peppers & olives in a light aglio olio sauce
Pasta Maiale Tricot
$15.95
pennette pasta with pancetta, prosciutto and sausage with tomato, rosemary, roasted pepper and gorgonzola
Gnocchi & Scallops
$18.95
sauteed scallops, saffron, fresh tomato and pignoli with a basil chiffonade
Linguine con Vongole
$17.95
littleneck clams and herbs in a white clam sauce
Penne Gamberi
$18.95
shrimp and fresh plum tomatoes in a white wine garlic and oil sauce
Seafood Tagliatelle
$21.95
mussels, calamari, little necks, & shrimp in a spicy seafood marinara
---
Vitello o Pollo / Veal and Chicken
Your choice of veal or chicken scaloppini
Piccatta
with white wine, butter, capers and lemon
Arancio
sauteed scaloppini with an orange butter pan sauce
Pesto
sauteed with olives and artichoke hearts in a traditional pesto sauce
Saltimbocca
with prosciutto, fresh mozzarella and sage in a natural pan sauce
Zingarella
sauteed with roasted peppers and sliced cherry peppers in a plum tomato sauce
Marsala
portobello mushrooms finished with a marsala wine reduction
Pizzaiola
sauteed in a spicy plumb tomato sauce
Puttanesca
tomato, olive, capers and lemon in a light tomato aglio e olio sauce
Carciofi e Funghi
with artichokes and a trio of mushrooms
---
House Specialties
Pollo con Funghi Crostada
$16.95
Trio of mushroom pesto crusted on tender chicken with a porcini mushroom sauce
Chicken "Under a Brick"
$16.95
grilled marinated boneless breast over braised white beans, sun dried tomatoes, porcini mushrooms, garlic, chili flakes and herbs
Pollo Speciale
$16.95
chicken breast sauteed with artichokes, mushrooms and sun-dried tomatoes in a sherry wine sauce
Vitello e Gamberi
$21.95
veal and shrimp in a pink vodka creama di gamberi
Sauteed Sole & Shrimp
$21.95
in a white wine, butter and basil sauce served with seasonal vegetables
Seared Sea Scallops
$19.95
over a braised fennel-infused risotto with toasted coriander and fresh thyme
Traditional Cioppino
$22.95
a mildly spicy seafood stew with fresh tomatoes & herbs served with garlic oil grilled bread
Lobster Agnolotti & Shrimp
$22.95
in a pink vodka sauce
Risotto Del Giorno
chef's selection
Bistecca Del Giorno
Daily Beef Special
---
Contorni / Sides
Penne with Marinara
$4.95
Linguine Aglio E Olio
$5.95
Risotto with Fresh Herbs
$6.95
---
Sparkling Wines
---
Wines Wines
Bigi Est! Est! Est!, Lazio
$23.00
Teruzzi & Puthod Vernaccia, Tuscany
$30.00
Principessa Gavia, Piedmont
$32.00
Due Torri Pinot Grigio, Veneto
Bortoluzzi Pinot Grigio, Veneto
$35.00
Rodney Strong "Charlotte's Home" Sauvignon, Sonoma
$27.00
Terruzzi & Puthod, Terre di Tufi, Tuscany
$42.00
Kenwood Sauvignon Blanc, California
Sonoma-Cutrer "Russian River Ranches" Chardonnay, Sonoma
$40.00
B.V. Coastal " Century Cellars" Chardonnay, California
Rodney Strong Chardonnay, California
$29.00
Berfinger White Zinfandel, California
Hogue "Late Harvest" Riesling, Wash St.
---
White Wines
Meridian Chardonnay, Santa Barbara
$12.00
Matanzas Creek, Sauvignon Blanc, Sonoma
$19.00
---
Red Wines
Raffino Chianti, Tuscany
$13.00
Raffino Riserva Ducale (Tan), Tuscany
$24.00
J. Lohr "Seven Oaks" Cabernet Sauvignon, Paso Robles
$16.00
---
Do you like this restaurant?
L'Osteria Ristorante Reviews

Back to Top