Lugano Swiss Bistro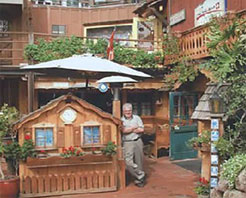 Escape to a little bit of Switzerland at The Barnyard Shopping Village on Highway 1 in Carmel. The cozy interior of Lugano Swiss Bistro, with its wood paneled walls adorned with Swiss decorations, whimsical mural and checkered tablecloths, transports the diner into a chalet high in the alps. Chef Andre Lengacher's culinary magic completes the picture with the unique and robust flavors of his native country. Outdoors, the illusion continues with an Alpine-style heated patio where well-behaved canines are welcome. Fondue is Switzerland's most famous contribution to world cuisine, and several varieties of the velvety, decadent cheese delight are prominently features on the menu. But fondue is more than cheese. Lugano also offers healthier versions including chicken, seafood, beef and lamb that will appeal to those who wish to eat lighter. And the chocolate fondue is a must! Lugano Swiss Bistro serves lunch and dinner Tuesday through Sunday from 11:30 am to 9:00 pm. Open Mondays until Labor Day. Authentic Swiss cuisine is only a yodel away at Lugano Swiss Bistro. In addition to fondue, there's authentic Schnitzel, lightly breaded and pan fried with lemon, capers and anchovy; Roast Rack of Lamb; and for the lighter appetite, Pan Fried Lake Trout and Seafood Risotto. An international wind list makes pairing the perfect wine easy. Join us at LUGANO, swiss bistro! your Hosts, Andre and Nargis Lengacher
LOCATION AND HOURS
Location
3670 The Barnyard Shopping Village
Carmel, CA 93923
(831) 626-3779

Get Directions
Hours
Monday
11:30 AM - 9:00 PM
Tuesday
11:30 AM - 9:00 PM
Wednesday
11:30 AM - 9:00 PM
Thursday
11:30 AM - 9:00 PM
Friday
11:30 AM - 9:00 PM
Saturday
11:30 AM - 9:00 PM
Sunday
11:30 AM - 9:00 PM
MORE DETAILS
Atmosphere




Family / Children
Payment Methods




Mastercard Visa
MENU
Appetizers, Soup And Salad
Original Swiss Raclette Cheese
melted over steamed potatoes
Puff Pastry
$11.95
filled with shiitake, forest and oyster mushrooms
Bundnerfleisch
$13.95
swiss air-dried specialty beef, pearl onions and cornichon
Saffron Risotto Sauteed With Wild Mushrooms
$10.75
parmesan cheese
Tomato, Basil And Mozzarella Cheese
$9.95
olive oil and balsamic vinegar
Baby Romaine House Salad
herb vinaigrette
With Gorgonzola Cheese Add
$3.00
Chef Andre's Beef, Potato Goulash Soup
$6.95
Swiss Onion Soup
$5.95
in a gruyere and emmenthal cheese crust
Vegetable Barley Soup
$5.75
from the region of grisons
---
Soup, Salads And Appetizers
St. Moritz Vegetable Barley Soup
Chef Andre's Beef And Potato Goulash Soup
$5.95
Baby Romaine House Salad
With Herb Vinaigrette
$4.95
With Gorgonzola Cheese
$6.95
Blackened Jumbo Shrimp Salad
$12.95
over baby romaine, garlic croutons, parmesan, cheese
Grilled Breast Of Chicken Salad
$10.75
valley romaine, roasted peppers and cucumber, balsamic vinaigrette
Caesar Salad
With Grilled Chicken
$12.95
Original Swiss Raclette Cheese
With Steamed Potatoes
$13.50
Bundnerfleisch Swiss Specialty Board
$12.95
air-dried, pearl onions, tomato wedge and cornichon
Mediterranean Greek Salad
$12.95
tomato, crisp cucumber, red onion, roasted peppers, feta cheese, kalamata olives
Hedi's Famous Vegetarian Salad With Ciabatta Bread
$12.95
greens, tomatoes, raisins, walnut, broccoli, cauliflower, carrots, bananas, strawberry, melon
---
Sandwiches
All Sandwiches Served With French Fries And Salad
Grilled Tuna Melt Sandwiche
$8.95
swiss cheese, tuna and tomatoes
Sliced Roast Pork Sandwiche
$10.95
with mango chutney on ciabatta bread french fries and salad
Vegetarian Sandwich
$9.95
grilled portobella mushrooms, pesto sauce tomatoes and emmenthaler cheese
Swiss Raclette Sandwich
$11.95
slow melted racclette cheese over a ciabatta
Grilled Breast Of Chicken Sandwich
$9.95
grilled chicken sandwich on ciabatta bread
---
Pasta
Spaghetti
$15.95
kalamata olives, roasted tomatoes, scallions, garlic, basil, parmesan cheese
Barbeque Jumbo Shrimp Over Spaghettini
$21.95
roasted tomatoes, garlic, basil, parmesan cheese
Swiss Pizokel
$16.95
spatzli sauteed with swiss chard, bacon, grated gruyers cheese
---
Swiss Specialties
Luganos's Famous Mixed Grill Platter
bbq n.y. steak, lamb, duck and shrimp steak fries & napa salad
Geschnetzeltes From Zurich
$26.75
thinly sliced veal in a delicate wild mushroon sauce roesti potatoes, seasonal vegetables
Schnitzel
$19.95
lightly breaded and pan fried pork loin, lemon, capers, anchovy, spatzli, and red cabbage
Peppercorn Dusted Breast Of Petaluma Duck
$25.95
with plun sauce. warm napa cabbage, bacon and fennal
Roast Rack Of Lamb
$28.75
demi glaze, roesti potatoes and seasonal vegetables
farmer's mountain sausage platter
$23.95
bratwurst, polish and garlic sausage over spatzli and sauerkraut
chicken schnitzel
$18.95
breaded breast of chicken with lemon wedge, spatzil and vegetables
veal or pork bratwurst
$16.95
caramelized onions, roesti potatoes and sauerkraut
new york sirloin steak
$23.95
maitre's butter, medley of vegetables and swiss roesti potatoes
center cut pork loin
$19.95
demi sauce and mango chutney spatzli, red cabbage and fennel
tender breast of chicken
$18.75
wild mushroom marsala wine sauce, mashed potatoes, vegetable
---
Seafood And Lite Sare
Baked Tilapia Citrus Beurre Blanc
$19.95
alsatian sauerkraut and steamed new potatoes
Pan Fried Lake Trout
$19.95
caper pinot grigio sauce, swiss chard, new potatoes
Baked Salmon In Lemon Demi Sauce
$22.95
risotto and vegetables
Monterey Bay Sand Dabs
$18.50
lighty sauteed saffron risotto swiss chard
Vegetable Platter
$17.95
steamed broccoli, cauliflower, fennel, green beans, eggplant, red cabbage, new potatoes, grilled tomatoes and sauerkraut
---
It's Hip To Dip
All Cheese Fondues Are Served With House Salad, Dipping Bread, Vegetables And Apples.
Swiss Original Cheese Fondue
gruyere, emmenthaler and appenzeller cheese
Tomato Ticino Fondue
original cheese fondue with roasted tomatoes and cream
Gorgonzola Mushrooms Cheese Fondue
shiitake, oyster and forest mushrooms sauteed in sherry wine
---
Lite Sare
Sauteed Monterey Sand Dabs
$12.95
saffron risotto and salad
Tomato, Basil And Mozzarella Salad
$8.95
balsamic vinegar and olive oil
Vegetarian Napoleon With Risotto
$12.50
roasted portabella mushroom, eggplant, tomato, red peppers, mozzarella, herb tomato sauce
Grilled Tilapia Salad
$12.95
red onions, feta cheese, cucumbers, carrots, tomatos
Grilled Walnuts-crusted Salmon
$13.75
over baby romaine in a lite vinaigrette
Grilled Breast Of Chicken
$10.95
fennel, red cabbage, steamed cauliflower and broccoli
Vegetable Platter
$10.50
steamed broccoli, roasted eggplant, cauliflower, red peppers, roasted fennel, grilled tomatoes and steamed potatoes
---
Lite'n Tasty Sondue
Fondue Are Served In A Broth, A Healthier Way Of Enjoying Fondue Along With House Salad, Roesti Potatoes, Vegetables And Dipping Sauces: Horseradish, Peanuts, Sesame Hoisin, Barbeque And Calypso Sauce.
Surf And Turf
$24.95
shrimp and beef in a sherry consomme
Seefood Fondue
$24.95
shrimp, scallops, salmon and tilapia simmered in a lobster safforn broth
Beef Foudue Bacchus
$23.95
sliced sirloin of beef to cook in a burgundy wine broth
Chicken Fondue Chinoise
$21.96
thinly sliced chicken to cook in a chicken stock
---
Soup Course Sondue Sampler
$31.95 Pp (2 Person Minimum)
Baby Romaine Salad
with house dressing
Cheese Fondue Appetizer
Combination Of Chicken And Beef Fondue
Swiss Roesti Potatoes
Dipping Vegetables
Dessert Chocolate Fondue
---
Do you like this restaurant?
Lugano Swiss Bistro Reviews

Back to Top