Oliver Cafe & Lounge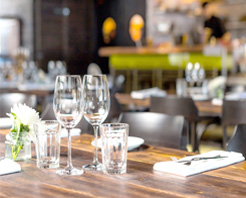 The latest, possibly most fashionable place to jump-start your day is the new $25-million Sports CLub L.A. in Beverly Hills, followed by breakfast or lunch at the adjacent Oliver Cafe and Lounge. Owned by Mario Oliver of Linq, this sleek white and chrome restaurant, squeezed into a former bank vault, has something for everyone. Those looking to shed a few pounds can head to the spa menu, where many dishes have fewer than 400 calories. But you can also find panini and wraps, an old-fashioned quiche Lorraine, a New York pepper steak, miso cold-poached Norwegian salmon-and low-carb bagels. And hey, there's the Low-Carb Power-C Martini made with wheat grass or, for reprobates, the real thing straight up with a twist. The isn't another place in Beverly Hills where you can will find this kind of extensive low-fat, low-carb menu, available from 6:00am until late evening. And without closing off the area, a separate dining counter runs through the glass wall of the restaurant into the fitness center, which is always in sight. Healthy cuisine has never tasted so good! After entering, I asked where the dining room was, and was told we were in it. This amazing little place is walled with frosted glass windows ion stainless steel frames that provide privacy and intimacy. And the small circular room has a slick high-glossed teak wood bar with saddle stools for 12, along with white leather banquettes and chairs paired to teak slat- tables for 45-diners. If you look towards the ceiling, it would be easy to visualize a ship deck over the likes of their incredible floor, intricately designed in white marble basket weave. At the bar, creative light bulbs i balls of glass hang from above, and a display case of desserts is ever present. Chef Legge previously helmed the kitchens for the internationally acclaimed
LOCATION AND HOURS
Location
9601 Wilshire Blvd
Beverly Hills, CA 90210
(310) 888-8160

Get Directions
Hours
Monday
11:00 AM - 10:30 PM
Tuesday
11:00 AM - 10:30 PM
Wednesday
11:00 AM - 10:30 PM
Thursday
11:00 AM - 10:30 PM
Friday
11:00 AM - 10:30 PM
Saturday
11:00 AM - 4:00 PM
Sunday
11:00 AM - 4:00 PM
MORE DETAILS
Amenities




5, TV, Private Party Room

Atmosphere




Romantic, Scenic View, Resort/Country Club, Bar Scene
Payment Methods




Amex Discover Mastercard Visa
MENU
Popular Items
Chicken Tostada
$13.00
breast of chicken, tomato, avocado, low-fat cheddar & sour cream, chipotle tomato sauce, romaine lettuce tossed with a low-fat ranch
Chicken Breast Forestiere
$14.00
light spicy jalapeno mushroom cream sauce, mashed potato, steamed vegetables
Oliver Cobb
$8.25
lettuce, corn, roma tomato, avocado, egg, toasted black sesame seeds, apple-wood smoked bacon, blue cheese, turkey with a sherry wine vinaigrette
Rock Crab Cakes
$10.00
red and green bell peppers, onion, celery, japanese panko bread crumbs, dijon mustard thai fish sauce
Filet Mignon Tips, Penne Pasta
$15.00
portabello mushroom, roast garlic, rosemary glaze, extra virgin olive oil, parmesan cheese
---
breakfast items, many of which are endorsed by the equinox registered dietitian, include such items to start the day as beverly hills burrito and fresh fruit eliminator
Main
Cold Organic Granola*
$5.50
dried fruits, nuts, non-fat yogurt and milk
Beverly Hills Burrito
$8.50
(0% trans fat tortilla) scrambled eggs, green onion, black beans, avocado, caramelized red onion, roma tomato, cheddar cheese, roma salsa, wrapped in a whole wheat tortilla
Green Burrito
$8.50
(0% trans fat tortilla) scrambled eggs, fresh spinach, avocado, basil, goat cheese, jalapeno cilantro wrap, green tomatillo sauce, fruit salad
Am Quesadilla
$6.75
(0% trans fat tortilla) tomato, onions, low fat monterey jack and cheddar cheese served with avocado, light sour cream and a light spicy sauce
Chilaquiles
$8.75
eggs, spinach, avocado, white beans, feta cheese, green tomatillo and corn tortillas
Bana Peanut Wrap
$8.50
(0% trans fat tortilla) fresh banana, low fat plain yogurt, organic granola, peanut butter, all wheat wrap served with fresh fruit
Breakfast Sandwich
$8.25
(0% trans fat tortilla) scrambled eggs, bacon, tomato, low fat cheddar, lettuce, whole wheat bread, fruit salad
Monte Cristo Sandwich
$7.50
egg-battered white toast with turkey, gruyere cheese and tomato served with fresh fruits
Fresh Fruit Eliminator*
$8.50
fresh selection of seasonal fruits, cup of non-fat yogurt, honey poppy seed drizzle
Oliver Omelet
$8.00
fresh steamed vegetables, laura chanel goat cheese, accompanied by fresh fruit
Oliver Light Omelet*
$9.00
egg whites, fresh steamed vegetables, cheddar cheese, accompanied by fresh fruit
Two Eggs Any Style
$6.50
yukon gold breakfast potatoes
Create Your Own Omelet or Scramble
$8.50
choice of 4 different items, served with golden breakfast potatoes or fresh fruits - turkey bacon, green onions, tofu, fresh basil, tomato, black beans, capers, corn, sweet red peppers, avocado, spinach, mozarella, swiss cheee, cream cheese, cheddar cheese, sour cream, feta cheese, goat cheese, sundried tomatoe, kalamata olives, mushrooms, garlic, grilled eggplant, smoked turkey, smoked salmon, onions, broccoli
Brooklyn Style Bagels
$2.00
a selection of freshly baked bagels and low-carbohydrate bagels
---
From asian to italian, oliver's specials have something to appeal to everyone's taste sensibilities from assorted sushi plate and rock crab cakes to carpaccio of filet mignon
Appetizers
Soup of the Season
$6.00
Selection of the freshest seasonal vegetables, meats or seafood fashioned into today's soup
Brie-Avocado Bruschetta*
$7.00
Avocado and brie melted together on french baguette
Dim Sum of Shrimp*
$8.00
Steamed shrimp chinese dumplings, ginger soy sauce
Asian Wild Big Eye Ahi Tuna Tartare*
$12.50
Mixed greens and toast
---
Salads
Pomegranate, Spinach, Romaine Chicken Salad
$13.00
Feta cheese, kalamata olives, dried dates, pomegranate seeds, tomato, carrots, red onion, ginger miso dressing
Chipotle Bbq Chicken
$13.00
Grilled chicken breast, homemade chipotle bbq sauce, corn, red onion, low fat cheddar, tomato, mixed greens, dill yogurt dressing
Chicken Curry Salad
$11.50
Golden raisins, celery, green onion, avocado, sundried cranberries, toasted pecan, yellow curry, low-fat mayonnaise, miso dressing on asian greens
Blackened Chicken Salad
$12.50
Marinated blackened chicken breast, fresh spinach, red onion, mushroom, tomato, yogurt dill honey mustard dressing
Mexican Wild Shrimp (Or Chicken) Salad
$13.50
Hearts of romaine, feta cheese, cucumber, tomato, parmesan cheese, warm chardonnay lemon garlic vinaigrette
Organic Baby Kale, Cranberry, Apple
$11.50
Apple, sundried cranberries, roasted cashew, blue cheese, honey lime mint dressing
"Oliver" Tuna Salad*
$11.50
Tomato, carrots, celery, red onion, asian greens, miso dressing
Cobb Salad*
$13.00
Iceberg lettuce, corn, tomato, avocado, egg, toasted black sesame seeds, apple-wood smoked bacon, blue cheese, roasted turkey, sherry wine vinaigrette
Sedona Chicken Salad*
$13.00
Chicken breast, sweet corn, avocado, tomato, black beans, green onion, low fat cheddar, lettuce, corn tortilla strips, cilantro dressing
Vegetarian Chopped Salad*
$11.50
Romaine lettuce, corn, beet, cucumber, tomato, carrot, red cabbage, garbanzo beans, swiss & cheddar cheese, raspberry vinaigrette
Wild Big Eye Seared Ahi Tuna Salad*
$14.00
Crispy wontons, rice noodles, green onion, mixed greens, light spicy thai sweet chili glaze
Blackened Fresh Scottish Salmon
$14.00
Fresh spinach, red onion, mushroom, tomato, yogurt dill honey mustard dressing
---
Wraps
All tortillas are made with 0% trans fat. 1 choice of - apple slaw, mixed greens salad, brown rice or fruit salad (extra side $2.50)
Vegan*
$12.00
Hummus, cucumber, tomato, bell pepper, red onion, carrot, alfalfa sprout, baby kale, honey lime mint dressing
Veggie Tofu Wrap*
$10.50
Avocado, daikon sprouts, asian greens, tofu, baby carrot, green onion, brown rice, hoisin sauce in a spinach wrap
Chicken Greek Wrap
$11.50
Chicken breast, hearts of romaine, kalamata olives, red onions, feta cheese, tomato, cucumber, warm chardonnay lemon garlic in lavash wrap
Chipotle Chicken
$11.00
Romaine lettuce, sautéed onions, low fat cheddar cheese, chipotle tomato sauce, chipotle wrap
Blackened Chicken Wrap
$11.95
Avocado, black beans, romaine lettuce, cheddar cheese, low fat ranch dressing, whole wheat wrap
Warm Greek Mexican White Prawn Wrap
$12.00
Hearts of romaine, feta cheese, tomato, cucumber, warm white wine-garlic vinaigrette in lavash bread
Wildbig Eye Seared Ahi Tuna (Light)*
$12.50
Avocado, daikon sprouts, roasted sesame seeds, asian greens, hoisin sesame dressing in lavash bread
---
Sandwiches
1 choice of: apple slaw, mixed greens salad, brown rice or fruit salad (extra side $2.50); Choice of: whole wheat, baguette or sourdough bread
Oliver Club
$10.00
Roasted turkey breast, avocado, red onion, tomato, turkey, bacon, yellow mustard, low fat mayonnaise, whole wheat bread
Roasted Turkey Breast and Pesto
$9.50
Smoked gouda cheese, tomato, cucumber, kalamata olives, sun dried cranberries, lettuce, pesto sauce
Roasted Turkey Ranch*
$9.50
Turkey breast, low-fat cheddar, tomato, lettuce, low-fat ranch
Open Faced Tonno Melt
$9.50
Tuna salad, sliced tomato, avocado, melted swiss cheese, aged balsamic syrup
Wild Big Eye Seared Ahi Tuna Sandwich*
$11.00
Lettuce, tomato, avocado, red onion, light sweet chili glaze
Wild Big Eye Seared Ahi Tuna Pesto Burger*
$11.50
Kalamata olives, red onions, fresh tomato, green leave lettuce, feta cheese, pesto sauce, whole wheat bun
Soy Chicken Burger
$10.75
Breaded soy chicken patty, fresh tomato, avocado, red onions, cornichons, swiss cheese, lemon dijon dressing, whole wheat bun
---
Paninis
Our panini bread is very light, freshly made and exclusive to oliver. 1 choice of: apple slaw, mixed greens salad, brown rice or fruit salad (extra side $2.50)
Chicken Blt Panini
$10.50
Chicken breast, bacon, lettuce, avocado, tomato, basil garlic sauce
Vegetarian Panini*
$9.50
Fresh mozzarella, tomato, fresh basil, roasted red bell pepper, grilled zucchini, roasted eggplant, kalamata olives, sun-dried tomato pesto
Margherita Panini*
$9.50
Fresh tomato, fresh basil, fresh mozzarella, kalamata olives, oregano, homemade marinara sauce
Chicken Basll & Sun-Dried Tomato Panini
$10.50
Grilled chicken, fresh spinach, sundried tomato, avocado, red onions, provolone cheese, basil garlic sauce
Roasted Turkey & Brie Cheese Panini
$11.00
Turkey breast, tomato, avocado, lettuce, red onions, kalamata olives, imported brie cheese, sun-dried tomato pesto
Chipotle Bbq Chicken Panini
$10.50
Grilled chicken, grilled onion, avocado, tomato, provolone cheese, homemade chipotle barbecue sauce
Turkey Pesto Panini
$10.00
Roasted turkey breast, tomato, smoked gouda, cucumber, sun-dried cranberries, kalamata olives, pesto sauce
Paillard of Chicken Breast (Light)*
$11.00
Thinly pounded herb marinated chicken breast, roasted red bell peppers, grilled zucchini, sun-dried tomato pesto, provolone cheese
Philadelphia Cheese Steak Panini
$10.50
Rib eye steak, sautéed onions, mushrooms, provolone cheese
---
Specials
Add small salad or soup $3.75
Quinoa, Steamed Vegetables & Soft Tofu Bowl (Vegan)*
$13.00
Quinoa, seasonal vegetables, steamed spinach, steamed organic baby kale, edamame, soft japanese tofu, toasted nori
Chicken Enchilada
$12.00
Corn tortilla filled with chicken breast, onion, low fat jack and cheddar cheese, chile guajillo sauce, brown rice and black beans
Wet Burrito (Lightly Spicy)
Black beans, tomato, sautéed onions, avocado, brown rice, topped with guajillo tomato sauce and provolone cheese, whole wheat wrap
Natural Creekstone Farm Beef Filet
$12.50
Stir Fry of Fresh Vegetables
$12.00
Organic baby kale, edamame, sesame ginger hoisin sauce, served over organic quinoa or brown rice
Paillard of Chicken Breast*
$14.00
Marinated grilled chicken breast, gruyère mashed potatoes, steamed vegetables, chardonnay garlic rosemary sauce
---
Pastas
Spaghetti Bolognese + Turkey
$12.95
Sliced turkey sausage, parmesan, bolognese sauce
Seasonal Vegetable Penne
$11.50
Mushroom, fresh tomato, red bell pepper, onion, pea, parmesan, in a light cream sauce
Pesto Chicken Bowtie Pasta
$12.50
Chicken breast, sundried tomatoes, kalamata olives, goat cheese, light creamy pesto sauce
Seafarm Fresh Scottish Salmon Penne
$13.50
Spinach, caper, fresh tomato vodka light cream sauce
Natural Creekstone Farm Filet Mignon Tips Penne
$14.00
Portobello mushroom, roasted garlic, rosemary glaze, extra virgin olive oil, parmesan cheese
---
Fish
Tacos De Pescado
$12.00
Seasoned fish, light spicy oliver tartar sauce, shredded lettuce, avocado, pico de gallo salsa, soft corn tortilla
Ahi Tuna Mignon*
$19.00
With big eye seared ahi tuna steak, cilantro honey lime soy glaze, white quinoa, kale salad w/ lime mint dressing
Parmesan Crusted Sea Farm Fresh Scottish Salmon
$16.50
Sea farm scottish salmon filet, balsamic glaze, brown rice, spinach
Lake Superior White Fish*
$16.50
Roasted fresh tomatoes, fresh spinach, roasted garlic pinot grigio sauce, brown rice and steamed vegetables
Sea Farm Scottish Salmon Tarragon
$16.50
Chardonnay light cream shallot tarragon sauce, brown rice and steamed vegetables
Miso Cold Poached Scottish Salmon*
$16.00
Brown rice, yogurt dill sauce, mesclun greens, miso-rice vinaigrette
---
Drinks choices include power or protein smoothies, packed with vitamins and antioxidants, freshly squeezed juices, as well as selections of serendipitea tea and other coffee drinks
Power Smoothies
16 oz $5.25, 24 oz $6.25. Add protein powder $1, creatine $1, glutamine $1, udo's oil $1
Tropical Dream
Passion fruit, mango juice, strawberries, orange sherbet
Pinky Juicy
Strawberries, banana, non-fat milk, non-fat frozen yogurt
Blue Apple
Blueberries, banana, soy milk, apple juice
Red Blaster
California strawberries, banana, pineapple, cranberry juice, non-fat frozen yogurt
Mangolicious
Mango fruit, mango juice, pineapple, banana, lime, non-fat frozen yogurt
Very, Very Berry
Strawberries, blueberries, raspberries, apple juice, non-fat frozen yogurt
Colada Cooler
Pineapple, banana, coconut, non-fat frozen yogurt
Oliver Strawnana
Orange juice, strawberries, bananas, non-fat yogurt
Oliver Fresh
Fresh apple, banana, strawberries, cranberry juice, non-fat yogurt
---
Protein Smoothies
All contain non-fat frozen yogurt
Orange Breeze
Fresh valencia orange juice, carrot juice, papaya, vanilla protein powder
Chai Soother
Bananas, soy milk, vanilla protein powder, chai tea
All in One Paradise
Mango, pineapple, coconut, passion fruit, banana, vanilla protein powder
Chocolate Moose Milk
Low-fat chocolate milk, banana, chocolate protein powder
Peach Pineapple Plunge
Pineapple, peaches, vanilla pts protein powder
Choco-Peanut Butter
Low-fat chocolate milk, banana, peanut butter, chocolate protein powder
Berry, Berry, Orange
Fresh valencia orange juice, strawberries, blueberries, raspberries, vanilla protein powder
Mmmm Mocha
Low-fat chocolate milk, banana, chocolate protein powder, coffee, honey
Vani-Peanut Butter
Non-fat milk, banana, peanut butter, vanilla protein powder
---
Fresh Juices
12 oz $3.75, 16 oz $4.75, Wheatgrass 1 oz shot $2
Fresh Squeezed Juice
Orange, carrot, passion fruit, apple, grapefruit, cranberry, peach, pineapple
Banan O Rama!
Banana fruit blended together with our fresh squeezed valencia orange juice
Cranberry Raspberry Slush!
California raspberries, cranberry juice
Orange Power Punch
Fresh orange juice, carrot juice, papaya juice
---
Energy Drinks
Vitamin Water
$3.50
Ask for our selection
Elixir Tonic Selection
$4.00
Invigorating tonic for the mind, body and spirit served hot wih your tea or cold with your soda
---
Water
---
Hot or Cold Coffee
All coffee drinks are made with starbucks house blend
---
Ice Blended Latte
Small $3.45, Medium $3.85, Large $4.40
Mango
Raspberry
White Chocolate
Caramel
Latte
---
Do you like this restaurant?
Oliver Cafe & Lounge Reviews

Back to Top