Panico's Restaurant & Bar and Brick Oven Pizza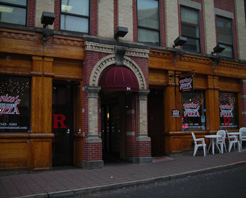 Welcome to Panico's Brick Oven Pizza! We specialize in delicious and reasonably priced cuisine, including our house specialties and other customer favorites. Our cuisine entrees are served in a relaxed and welcoming setting that you and your friends and family are sure to enjoy. Whether you are in the mood to indulge in something new or just want to enjoy some old favorites, we promise that our inventive menu and attentive service will leave you truly satisfied. No matter what your occasion calls for or your appetite demands, the friendly staff at Panico's Brick Oven Pizza promise to make your next dining experience a pleasant one.
LOCATION AND HOURS
Location
94 Church Street
New Brunswick, NJ 08901
(732) 545-6161

Get Directions
Hours
Monday
11:00 AM - 11:00 PM
Tuesday
11:00 AM - 11:00 PM
Wednesday
11:00 AM - 11:00 PM
Thursday
11:00 AM - 11:00 PM
Friday
11:00 AM - 12:00 AM
Saturday
11:00 AM - 12:00 AM
Sunday
11:00 AM - 9:00 PM
MORE DETAILS
Attire




Casual

Atmosphere




Fireplace, Family / Children, Sports Bar

Amenities




TV, Private Party Room, Wi-fi
Payment Methods




Amex Discover Mastercard Visa
MENU
Appetizers
Hot Sausage & Broccoli Rabe
$7.95
Sauteed Broccoli Rabe Or Sauteed Spinach
$6.50
Meatballs Or Sausage
$3.95
Garlic Bread With Mozzarella
$4.50
---
Soup
Cheese Tortellini In Chicken
$4.95
broth with diced tomatoes and parmesan cheese
Pasta Fagioli
$4.95
(red) diced penne in a tomato based broth with cannellini beans
Pasta Fagioli
$4.95
(white) served in chicken broth with diced penne & cannellini beans
Spinach & Bean
$4.95
cannellini beans with spinach in chicken broth with parmesan.
---
Salad
Antipasto
bed of romaine lettuce served with ham, salami, provolone, fresh mozzarella and roasted red peppers
Arugula Salad
served with fresh mozzarella, roasted red peppers
Caesar Salad
includes same ingredients as house salad
Grilled Chicken Salad
$8.95
---
Heros
Ham, Salami, & Cheese
$5.95
Prosciutto & Fresh Mozzarella
$6.95
Fresh Mozzarella Sandwich
$3.95
Meatballs Parmigiana
$4.95
---
Pasta
Choose Your Favorite Pasta & Sauce
$10.95
tomato marinara, garlic & oil, and meat sauce
Penne Arabiatta
$10.95
with hot sausage, olives, hot peppers, in marinara sauce
Fettucine Alfredo
$13.50
with chicken
Fusille Homemade Pasta
$12.95
mushrooms & spinach in light tomato sauce
Gnocchi Panico's
$11.95
with plum tomatoes & mozzarella
Fettuccine Carbonara
$11.25
onion, ham, heavy cream, & parmesan cheese
---
Do you like this restaurant?
Panico's Restaurant & Bar and Brick Oven Pizza Reviews

Back to Top