Pirate Pizza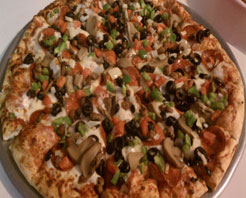 Drop into Pirate Pizza for good times and great food. The restaurant is a neighborhood favorite, and offers a casual, friendly dining atmosphere that you and your friends are sure to enjoy. Pirate Pizza also features a friendly, professional staff of great people, who will make sure you enjoy your visit and that Pirate Pizza lives up to its reputation for pleasant dining and superb cuisine. The menu offers an inspired array of selections that is sure to satisfy everyone in your group, every time. Be sure to ask your server about new selections, daily specials, and special chef's creations. Whether you're in the mood for casual dining or a special occasion, Pirate Pizza is sure to please.
Pizza, Deli/Sandwich/Soup/Salad
LOCATION AND HOURS
Hours
Monday
11:00 AM - 11:30 PM
Tuesday
11:00 AM - 11:30 PM
Wednesday
11:00 AM - 11:30 PM
Thursday
11:00 AM - 11:30 PM
Friday
11:00 AM - 11:30 PM
Saturday
11:00 AM - 11:30 PM
Sunday
11:00 AM - 11:30 PM
MORE DETAILS
Attire




Casual

Amenities




TV, Private Party Room
Atmosphere




Family / Children
Payment Methods




Amex Discover Mastercard Visa
MENU
Popular Items
Pirates Combination
Cheese, Pepperoni, Sausage, Mushrooms, Black Olives, Bell Pepper & Onion
Pirates Super Combination
Cheese, Salami, Pepperoni, Onions, Mushrooms, beef, Italian Sausage
Pirates Vegetarian
Cheese, Mushroom, Black Olives, Bell Pepper & Tomato
Mexican Pizza
Cheese, Bell Pepper, Onions, Jalapenos, Tomato & Beef Chorizo
---
Do you like this restaurant?
Pirate Pizza Reviews

Back to Top