Runner Stone Mill House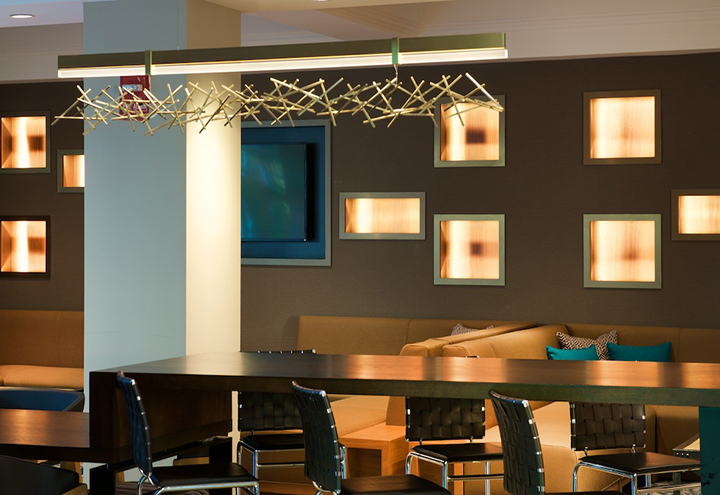 Locally influenced by the backbone of Pittsburgh's rich mill history with a motivation from regional and seasonal ingredients, the Runner Stone Mill House menus are embedded with a rich story. The restaurant's name is inspired by the Watson Family, operators of a grist mill in Coraopolis, PA from 1830 to 1887. Grist mills are historically recognized for gathering communities together and providing nourishment for all characteristics to which the Runner Stone Mill House embodies. In a community like manner, each menu item has been constructed for table sharing, beginning with Quick Bites and Shareables to Fork & Knife, ending with Sweet Delights.
LOCATION AND HOURS
Hours
Monday
6:00 AM - 10:00 PM
Tuesday
6:00 AM - 10:00 PM
Wednesday
6:00 AM - 10:00 PM
Thursday
6:00 AM - 10:00 PM
Friday
6:00 AM - 10:00 PM
Saturday
7:00 AM - 10:00 PM
Sunday
7:00 AM - 10:00 PM
MORE DETAILS
Attire




Casual

Amenities




Wi-fi, TV
Atmosphere




Romantic, Family / Children
Payment Methods




Amex Cash Diners Club Discover Mastercard Visa
MENU
To Start & Share
Chicken & Rice Soup
$7.00
Hummus
$10.00
Grilled flatbread and crisp celery
Jack & Cheddar Quesadilla
$11.00
Chicken or pulled pork and scallions in a large flour tortilla
Tomato Bruschetta
$10.00
Tossed with olive oil, basil, garlic and shaved parmesan cheese, tossed in red wine vinegar
Buffalo Wings
$9.00
Deep fried chicken wings tossed in a buffalo hot sauce
Provolone Wedge
$9.00
Served with marinara
Calamari
$11.00
Flash fried and tossed with garlic butter, served with marinara and lime aioli
---
Big Salads
Regatta Salad
$9.00
Mixed greens, tomatoes, pecans, red onion, bleu cheese and balsamic vinaigrette
Caesar Salad
Chilled romaine tossed in traditional Caesar dressing with parmesan cheese and croutons
Add grilled chicken, shrimp, or salmon
$17.00
Pittsburgh Salad
Blend of iceberg and romaine with hard boiled egg, tomato, cucumber, shredded cheddar and fries, tossed with ranch dressing
Add steak or chicken
$18.00
Greek Salad
$13.00
Romaine, blistered tomatoes, cucumbers and creamy feta with Greek dressing
---
Sides
French Fries
Sweet Potato Fries
Coleslaw
Daily Vegetable
Fresh Fruit Cup
---
Sandwiches
All sandwiches are served with a choice of one side
Marriott Burger
$15.00
The classic on a butter toasted sesame seed bun, fresh ground Angus beef, cheddar cheese and crisp bacon, served with a pickle
Classic Club
$15.00
A Marriott classic based on a Heritage Co. recipe - turkey, bacon, lettuce and tomato
Reuben
$15.00
Rye bread, sauerkraut, Swiss cheese and Thousand Island dressing
The Cheese Steak
$15.00
Thinly sliced roasted ribeye piled high with peppers, onions, mushrooms and provolone cheese on a baguette
Steak & Cheese Panini
$13.00
Tender beef, roasted red peppers and whole milk mozzarella cheese
Italian Panini
$13.00
Capicola, Genoa salami and pepperoni with Giaranderia, provolone cheese, arugula and Italian dressing
Fatty Patty's Fancy Burger
$14.00
100% Fresh beef chuck on a kaiser roll
Veggie Burger
$13.00
Jack cheese on a whole wheat bun with lettuce and tomato
---
Desserts
Apple Tart
$8.00
Apple galette with vanilla ice cream, chocolate sauce and whipped cream
Warm Chocolate Chip Cookie Sundae
$8.00
Warm chocolate chip cookie topped with vanilla ice cream, chocolate sauce and whipped cream
NY Cheesecake
$8.00
New York style cheesecake topped with strawberry sauce
Rockie Road Brownie Sundae
$9.00
Warm brownie with marshmallow cream, topped with chocolate ice cream and chocolate sauce
Panna Cotta
$10.00
Italian style custard topped with berries and Limoncello cream
Berries and Sorbet
$9.00
Choose from Wild Berry or Lemon topped with fresh berries
Haagen-Dazs Ice Cream
$5.00
---
Specialties
Grilled Filet Mignon
$39.00
Garlic sauteed mushrooms, crisp fries and stock butter
Simply Fresh Fish
$25.00
Served with Chef choice of vegetables
Spaghetti & Meatballs
$19.00
Housemade tomato sauce with shaved parmesan
Voodoo Chicken Pasta
$19.00
Sauteed chicken tossed in Voodoo cream with red onion, broccoli and red peppers
Omelet of Your Choice
$13.00
Served with a green salad and french fries
Roasted Half Chicken
$22.00
Tender roasted chicken with green beans and carrots
Mushroom Chicken Penne with Truffle Oil
$22.00
Sauteed mushrooms and bacon tossed in a light broth with shallots, garlic, spinach and white truffle oil
Pasta Carbonara
$20.00
Pancetta, parmesan and peas tossed with linguine
Aglio Olivio
Pasta tossed with olive oil and garlic
---
Tasters
Barbequed House-Fried Chips
$6.00
Creamy Bleu Cheese & Chive Sour Cream
Tempura-Battered Bacon Onion Rings
$7.00
Sweet Chili Sauce
---
Bowls
Smoked Shrimp & Butternut Squash Bisque
$10.00
Iceberg Wedges
$8.00
House-Cured Bacon, Cucumber, Shaved Red Onion and Crumbled Bleu Cheese
---
Dinner
with your choice of two sides: bleu cheese and bacon macaroni & cheese grilled sweet potatoes with maple aioli coleslaw
Beef Brisket
$16.00
with Brown Sugar Barbeque Sauce
Smoked Pulled Pork Shoulder
$14.00
Cider-Brined Smoked 1/2 Chicken
$18.00
---
Refreshments
Smokey Manhattan
$14.00
Woodford Reserve Bourbon, Maple Syrup and Liquid Smoke with a dash of chocolate bitters, served up
---
Quick Bites
Soup of the Day
$6.00
Chef crafted daily
Caramelized Onion & Mushroom Soup
$7.00
Parmesan herb crouton, swiss, gruyère, white cheddar cheese
Smoke House Chili
$8.00
Smoked ground tenderloin & chuck, served in a rustic bread boule, with shredded cheddar cheese and green onion
Housemade Sweet & Spicy Jerky
$6.00
1919 draft root beer marinade, house smoked, slow aged
Antipasto
$10.00
House selection of meat & cheese, grilled artisan bread, olives, assorted pickled vegetables
Roasted Red Pepper Hummus
$7.00
Roasted red pepper blended with parmesan, pine nuts, crisp vegetables, grilled pita
Hummus Pizza
$8.00
Crispy pita with cold hummus spread across the top and finished with a sauteed spinach salad with roasted tomatoes, sliced jalapeno and feta cheese
---
Sharables
Pretzel Bites
$8.00
Sea salt, craft beer cheese, caramel
Beef Brisket BBQ Quesadilla
$11.00
Caramelized onion, pulled brisket, white cheddar cheese & pepper jack cheese blend
Shrimp Scampi Skillet*
$15.00
Tomato, scallions, garlic, white wine, grilled artisan bread
Crispy Portobello Mushroom Fries
$9.00
Creamy horseradish dip
Crispy Chicken Wings
$12.00
Cool bleu cheese, crisp vegetables, choice of classic buffalo, sweet barbeque, garlic parmesan
Whole Smoked Wings
$12.00
Cool ranch dressing, crisp vegetables, choice of dried seasoning or spicy jerk BBQ
Mill House Smoked Brisket Nachos
$12.00
Corn tortilla chips, black beans & corn relish, jalapeños, cheddar cheese, pepper jack cheese, salsa, guacamole, sour cream
---
Wood Fired Flatbreads
$14
Forged Mushroom
wild mushrooms sauteed in garlic spread, baked with goat cheese, finished with fresh parsley and thyme
Caprese
roasted tomatoes, fresh mozzarella with roasted garlic and fresh basil
Prosciutto Crudo
baked prosciutto and fresh mozzarella with creamy alfredo sauce, finished with crispy arugula and olive oil
Buffalo Chicken
buffalo chicken fried with roasted red peppers, pepper jack cheese, and drizzled with ranch dressing
---
Mill House Garden
Add grilled chicken $5, smoked chicken $5, cold water alaskan salmon* or shrimp* $8
Caesar Salad
$9.00
Parmesan herb croutons, grilled lemon half, crisp romaine hearts, housemade caesar dressing
Citrus Beet Salad
$10.00
Red & gold beets, grilled fennel, citrus fruits, blended greens, crushed pistachios, lemon-lime vinaigrette
Baby Spinach Salad
$12.00
Strawberries, goat cheese, candied pecans, fresh berries, baby spinach, vinaigrette dressing
Farro Salad
$9.00
Farro, cucumber, heirloom tomatoes, scallions, mixed radish, red pepper, fresh parsley, flaming lucky sorrel, blended greens, lemon oil
Apple Harvest Salad
$9.00
Candied walnuts, julienned red & green apples, diced celery, golden raisins, blended greens, cider vinaigrette
---
Handhelds
Choice of hand out fries, sweet potato waffle fries, onion rings, house salad or vegetable of the day
Bacon Cheddar Burger*
$16.00
White cheddar cheese, pecan wood-smoked bacon, bibb lettuce, tomato, pickle, bianco bun
Oven Roasted Turkey BLT
$14.00
Swiss cheese, lemon mayo, toasted country wheat
Cajun Turkey Sandwich
$15.00
Toasted marble rye bread, sliced cajun turkey, horseradish cheddar cheese, remoulade sauce, lime cilantro slaw, stacked with hand cut potato fries
The Ultimate Grilled Cheese
$12.00
Gruyere, brie, aged cheddar cheese, sweet fig jam, grilled brioche bread
---
Trio Tacos
Served on a warm flour tortilla. One of all or all of One $16. Choice of hand out fries, sweet potato waffle fries, onion rings, house salad or vegetable of the day
Cajun-Style Mahi Mahi
cilantro lime slaw
Pork Carnitas
diced white onion & cilantro leaves
Brisket BBQ
caramelized onions, blend of cheddar & pepper jack cheese
---
Veggie On
Vegetarian entrees will be served with warm bread, house dipping oil & vinegar
Vegetarian Herb Wrap with Farro Salad*
$16.00
Cage-free fresh eggs fried, sauteed scallions, caramelized onions, pea tendrils, english peas, wrapped with artisan lettuce mix, sorrel, cucumber, heirloom tomatoes, scallions, baby mixed radish, red pepper, fresh parsley, lemon olive oil, side farro salad
Runner Stone Vegetable Sandwich
$12.00
Grilled portobello mushroom, spinach, roasted pepper, avocado, rustic bun
Mushroom Ravioli
$19.00
Portobello mushrooms, roasted tomatoes, arugula, truffle oil, alfredo sauce
Harvest Root Vegetable & Tofu
$22.00
Petite crimson lentils, roasted golden & red beets, sauteed heirloom tomatoes, radish leaves, garlic olive oil, pan seared tofu, chai tea cashew butter
---
Fork & Knife
All entrees served with warm bread, house dipping oil & balsamic vinegar. Add side house or caesar salad $7
Filet Mignon
$36.00
8 oz. filet mignon grilled to perfection, demi, chef's side selection
Chai Tea Honey Seared Salmon*
$25.00
Seared salmon glazed with chai tea honey and topped with chai-infused cashew butter. Served with chef 's selection starch and veggie of the day
Roasted Half Chicken
$20.00
Slow herb roasted chicken, natural apple cider jus, chef's side selection
Spicy Garlic & Red Wine Sausage
$16.00
Housemade sausage, tri-color bell peppers, caramelized onions, provolone cheese
Fresh Pasta a Diablo
$20.00
Housemade sausage, banana peppers, tomato sauce, basil, parmesan
Corkscrew Shrimp Pasta*
Sauteed shrimp, diced tri-color peppers, red onions in coconut milk & grated parmesan, tossed with penne
Substitute Chicken
$22.00
BBQ Baby Back Ribs
Smoked & slow-roasted in-house ribs, slaw, grilled corn bread, sweet honey butter
---
Five to Seven
Before 5 and after 7 all items are $2 more
Fried Pickles
$5.00
Lemon, dill aioli
Feta Stuffed Artichoke Hearts
$5.00
Horseradish sauce
Giant Pretzel Knot
$6.00
Guinness beer cheese
Ahi Tuna Salad*
$6.00
Blended greens, grilled fennel, smoked lemon vinaigrette dressing
---
Sweet Delights
Chocolate Temptation
$7.00
Hazelnut cream with a hazelnut crunch, covered with a chocolate glaze
Coppa Crema Amarena
$7.00
Chocolate sponge cake, vanilla cream, chocolate chips & amarena cherry sauce
Pistachio Cheesecake
$7.00
Creamy pistachio cheesecake topped with light pistachio mousse
Caramel Apple Walnut
$7.00
Apple cake infused with walnuts, caramel cream icing, brown sugar crumbs & gooey caramel
---
Do you like this restaurant?
Runner Stone Mill House Reviews

Back to Top