The Dixie Diner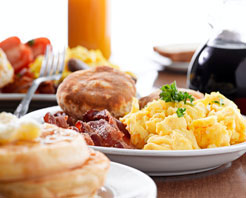 Another hard day? Looking for someplace to unwind? The Dixie Diner is your home away from home. Friendly atmosphere, superb food, and a staff who care. And best of all it is a perfect place to relax with friends and family, co-workers and colleagues, or just you, after that long day. The Dixie Diner's menu offers a wide variety of dishes, all prepared with the care and attention that has made The Dixie Diner the place to go in Hendersonville for casual dining. So come in, relax, and leave the cooking to us.
LOCATION AND HOURS
Location
1724 Brevard Road
Hendersonville, NC 28791
(828) 697-5025

Get Directions
Hours
Monday
6:00 AM - 11:00 AM
Tuesday
6:00 AM - 2:00 PM
Wednesday
6:00 AM - 2:00 PM
Thursday
6:00 AM - 2:00 PM
Saturday
6:00 AM - 2:00 PM
MORE DETAILS
Payment Methods




Cash Discover Mastercard Visa
MENU
The Sweets
Sweet Potato Pancakes
$5.95
Whole Wheat French Toast
$6.95
Granola Yogurt Parfait
$4.75
---
The Specialties
Veggie Breakfast Burrito
$7.25
Fried Green Tomato BLT
$7.50
Roasted Turkey & Bacon Wrap
$8.25
---
The Standards
Corned Beef Or Turkey Reuben
$7.95
Chicken Salad or Tuna Salad Croissant
$8.25
---
The Omelete
---
The Salads
Balsamic, Greek, Italian, Ranch, Honey Mustard, Bleu Cheese Russian, Cajun Ranch,
The Cobb
$8.95
Romaine Topped with Grilled Chicken, Bacon, Bleu Cheese, Cheddar-Jack, Tomato, Onion, Cucumber, Hard-boiled Egg & Avocado
The Greek
$7.95
Traditional Topped with Greek Vinaigrette
The Big Salad
$7.95
a Plethora of Garden Vegetables Served over Romaine & Topped with Fresh Mozzarella & Hard-Boiled Egg
---
The Sides
Crinkle Fries
Onion Rings
Potato Salad
Pasta Salad
Coleslaw
Tomato Slices
Fresh Fruit
Cup of Soup
---
Sub These Sides For $1
Sweet Potato Fries
Side Salad
Bowl of Soup
---
A La Carte
---
Do you like this restaurant?
The Dixie Diner Reviews

Back to Top