The Hilltop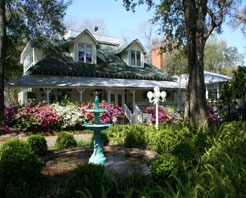 Welcome to Hilltop! Our restaurant is a beautiful Victorian-style mansion, nestled among towering oak trees, offering an unforgettable experience in a resplendent ambiance of antique furniture and style, blending old "English Elegance" and "Southern" influences in complete harmony. The Hilltop Restaurant and Banquet Rooms are located at the quiet end of Wells Road in Orange Park, just a few miles south of Jacksonville, Florida. Come in and enjoy a taste of elegance topped off by the best service in town.
LOCATION AND HOURS
Hours
Tuesday
5:30 PM - 9:00 PM
Wednesday
5:30 PM - 9:00 PM
Thursday
5:30 PM - 9:00 PM
Friday
5:30 PM - 10:00 PM
Saturday
5:30 PM - 10:00 PM
MORE DETAILS
Amenities




TV, Private Party Room
Atmosphere




Romantic, Live Music, Outdoor Dining, Fireplace, Scenic View, Family / Children
Payment Methods




Amex Cash Discover Mastercard Visa
MENU
Hear your favorite songs tues-thur 6:30 pm til 9:00 pm and fri-sat 6:30 pm til 10:00 pm. The lounge and dining room open at 5:30 pm. Closed on Sundays and Mondays. We are happy to prepare dishes for our vegetarian and vegan guests. Please ask your server for details.
Appetizers
Fried Green Tomatoes
$8.95
Lightly breaded garnished with goat cheese & roasted poblano dipping sauce.
Mussels
$11.95
One pound of mussels sauteed with lemon, garlic & white wine.
Fried Shrimp
$11.95
Fresh shrimp lightly dusted & served with homemade cocktail sauce.
Hilltop crab cake
$12.95
Pan-served crab cake served with roasted poblano aioli.
Crab and Spinach Dip
$9.95
Warm lump crabmeat & spinach served with warm pita chips.
Escargot
$9.95
Snails & wild mushrooms, sauteed in our scampi sauce served over toasted ciabatta bread.
Bacon wrapped Scallops
$13.95
Marinated scallops wrapped in jalapeno bacon & grilled to perfection.
Ahi Poke
$12.95
Sesame marinated tuna served on fried wontons.
Fried Artichokes
$8.95
Artichoke hearts breaded & deep fried served with red chili adobo aioli.
---
Lite Fare
All lite fare items served with steak fries & sunshine caviar.
Crab Cake Sliders
$14.95
Our homemade crab cakes, deep-fried & served on fresh baked rolls with cilantro-lime tartar sauce.
Mahi Tacos
$12.95
Lightly breaded mahi-mahi tossed with Asian slaw, cilantro & lime, served on flour tortillas.
Bistro Steak
$12.95
8oz New York strip steak marinated, grilled to order & garnished with bistro butter.
Prime Rib Sliders
$12.95
Our signature slow-cooked prime rib served on fresh baked rolls with cheese, sauteed onions & horseradish sauce.
---
Soups & salads
Kale & Mixed bean Salad
$4.95
---
Beef & Pork
Served with two sides.
Prim Rib
Our signature dish. Slow cooked to perfection with au jus & our homemade horseradish sauce.
Cowboy Ribeye
$36.95
20 oz. bone-in ribeye steak grilled to perfection & topped with our butter.
New York Strip Steak
$27.95
14 oz. grilled strip steak finished with port wine demi-glaze.
Filet Mignon
$28.95
8 oz. hand-cut filet mignon grilled & finished with a rosemary demi-glace.
Pork Tenderloin
$23.95
Marinated pork tenderloin wrapped in Applewood smoked bacon.
---
Seafood Dishes
Served with two sides.
Hilltop Crab Cakes
$24.95
Our homemade crab cakes, pan seared & served with roasted poblano aioli.
Grilled Salmon
$21.95
Fresh salmon, seasoned, grilled & topped with teriyaki-ginger sauce.
Stuffed Flounder
$24.95
Fresh flounder stuffed with crab meat, broiled & finished with our homemade beurre blanc.
Seafood Combination
$26.95
Shrimp, scallop & Mahi fillet broiled & finished with beurre blanc sauce.
---
Pasta
Shrimp and Scallops New Orleans
$25.95
Shrimp & scallops sauteed with garlic, shallots, red peppers & spinach, in a spicy cream sauce.
Chicken Piccata
$17.95
Chicken Breast sauteed with lemon, butter, white wine capers & mushrooms, served over a bed of pasta.
Chicken Sergio
$17.95
Pan-seared chicken breast topped with prosciutto & mozzarella cheese served over a bed of liguini & finished with a marsala wine sauce.
---
Side Dishes
Mashed Sweet Potatoes
$1.95
---
House Wines
Muscato Chardonnay, White Zinfandel, Merlot & Cabernet Sauvignon
$6.00
---
White Wines
Hogue Late Harvest Riesling
$7.00
Forrest Glenn Riesling
$7.00
New Age White Wine (Sauvignon Blanc | Malvasia)
$7.00
Beach House Sauvignon Blanc
$7.00
Domaine Napa Chardonnay
$8.00
Mandra Rossa Pinot Grigio
$7.00
---
Red Wines
I Lohr "Falcons Perch" Point Noir
$7.00
Shooting Star Point Noir
$8.00
Shooting Star Syrah
$7.00
---
Sparkling Wine
Kenwood Sparkling Wine
$6.00
Zonin Asti Spumante
$7.00
---
Do you like this restaurant?
The Hilltop Reviews

Back to Top