The Silverado Grill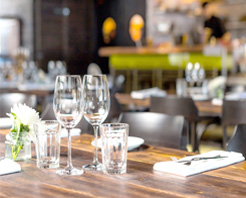 This very casual neighborhood restaurant serves up American favorites that taste great like steaks, burgers, chicken, ribs and seafood. The atmosphere is friendly, family and even a little camp. A good place to meet. Great local place from the bus boy to the servers, up to the owner, Jack Island, you get the feeling they appreciate your business. The food is above average, the drinks are tall and cold, plus I like the old frontier decor. The outdoor patio works for me and my family. Oh, and did I mention, this is a family, community, kinda place. Not a meat market bar, nor a fancy pans, hoity torte average stuck up place. Simple and good. you can enjoy yourself at the Silverado Grill
LOCATION AND HOURS
Hours
Monday
11:30 AM - 10:00 PM
Tuesday
11:30 AM - 10:00 PM
Wednesday
11:30 AM - 10:00 PM
Thursday
11:30 AM - 10:00 PM
Friday
11:30 AM - 11:00 PM
Saturday
5:00 PM - 11:00 PM
MORE DETAILS
Amenities




Wi-fi

Atmosphere




Outdoor Dining, Bar Scene

Attire




Casual
Payment Methods




Amex Cash Discover Mastercard Visa
MENU
Appetizers & Late Night Eats
Silverado Wings
$8.95
Our answer to those Buffalo wings
Chicken Quesadillas
$7.95
Moist, spicy chicken, green onions, sour cream, salsa, & cheddar-jack on a flour tortilla
Beer Battered Onion Rings
$6.95
Jumbo sized and delicious!
Chicken Fingers
Deep fried to perfection
Served Buffalo Style
$9.25
Chipotle Lettuce Wraps
$7.95
Romaine lettuce, shredded pork, homemade Chipotle salsa, sour cream and tortilla strips. Because Peter & Mimi asked for 'em!
Crispitos
$7.75
Rolled quesadillas stuffed with our spicy chicken and deep fried
Combo Basket
$7.25
We mix Zucchini Sticks, Onion Rings, Mushrooms, and Cheese Sticks
Broccoli Bites
$7.75
Stuffed with Broccoli, Cheddar Cheese, and Bacon. Served with Ranch
Armadillo Eggs
$7.75
Cheddar cheese stuffed Jalapeños. Charity's Favorite!
Fried Cheese Sticks
$7.95
Lightly breaded sticks of Mozzarella cheese
Chips & Salsa
$4.50
Fresh "made from scratch" chunky salsa
Deep Fried Pickles
$6.95
Lightly breaded. Great whether you're pregnant or not
Fresh-Cut Fries
$3.95
A basket enough for two
---
Steaks, Chops & Ribs
Steaks and Ribs are the Silverado's claim to fame. We cut our steaks all right here and Chris will cook them up just as thick and juicy as you want 'em. We're not the braggin' sort, but our steaks and ribs and such are the subject of conversation from here to the Sante Fe trail. All of our dinners come with fresh bread and your choice of Soup or Dinner Salad as well as your choice of Baked, Smashed or Fried Potatoes, Sun Rice or Vegetables
Silverado's Own BBQ Baby Back Ribs
A full slab of our mouth watering baby back ribs - seasoned and cooked our own special way, then dipped in BBQ sauce made especially for our ribs
New York Strip Steak
$26.95
Some call it a Kansas City Strip, others call ours the King of Steaks. Rocc's favorite!
Teriyaki Sirloin
$17.95
A generous center-cut of choice top sirloin marinated in our own teriyaki recipe. Chip & Jason's Friday Night Choice!
Garlic Steak
$17.95
Center-cut top sirloin cooked with crushed garlic pieces. Vida's main meal!
Jack's Kabob
$16.95
Large chunks fo filet skewered with fresh vegetables, served on a bed of Sun Rice
Filet Mignon
$26.95
KK's Favorite! Tender and juicy! A pure delight
The Groundup
$12.95
We take our fresh ground sirloin then hand patty and serve this with mushrooms and tomato. Trisha's favorite!
London Broil
$13.75
Thin strips of beef covered with a Madeira and mushroom sauce. Gary from E.C. enjoys this!
Pork Chops
$16.95
Two 8 oz. Center-cut chops
Liver & Onions
$14.95
Fork tender calves liver smothered with grilled onions
---
Chicken Dinners
Doc's Texas Chicken
$12.95
Our boneless chicken breast cooked in our hot, spicy BBQ sauce. Great with a cold beer!
Hawaiian Chicken
$12.95
Tender boneless chicken breast marinated in our special pineapple, soy and sherry marinade
Chicken Kabob*
$11.75
Tender pieces of chicken skewered up with vegetables, served on a bed of Sun Rice
Cajun Chicken
$12.95
Large marinated chicken breast rolled up in our Cajun Seasoning, then grilled SPICY!!
---
Seafood Dinners
Catfish Filet*
$14.95
Plump, moist filet. We can do it Cajun Style if you like
Maryland Crab Cakes
$20.95
A combination of jumbo lump and claw meat. Prepared in the Maryland Old Bay tradition. And YES - there is crab in these cakes. Thanks for the recipe Lester!
Tilapia Fillet*
$14.95
Moist, flakey and mild in flavor
Catch of the Day*
We always pick something we think y'all will like. Ask your server what we came up with today
---
Two Handed Sandwiches and Wraps
All sandwiches are served with your choice of cottage cheese, coleslaw or fresh cut fries. Add a Dinner Salad to any sandwich - $2.95
The Silverado Burger
$9.25
A full 1/2 pound fresh hand-pattied hamburger cooked to order and served on a gourmet bun with lettuce, tomato and pickle
Bacon Burger with Cheese
$10.95
Mushroom Burger with Cheese
$10.75
Jalapeño Burger with Cheese
$10.75
The Duke's Choice
$10.95
With Bacon, Mushrooms, Chili and Cheese
Patty Melt
$10.50
Our juicy burger covered with grilled onions and American cheese, served on light rye bread
Buffalo Don's Bison Burger*
$9.75
Raised on Don's ranch in Marengo, IL. Very Lean with a meaty texture and a unique flavor. Good for the heart - ask Jack!
Pot Roast Sandwich
$10.95
Juicy and tender, mixed with caramelized onions, cheddar cheese and horseradish sauce served on an onion roll. Cammie loves this one!
Steak Sandwich
$15.95
Our Waitress' Favorite! Petite Fillet served on an onion roll. #1 with Mary!
Buffalo Chicken Wrap
$9.25
Fried chicken tenders dipped in our wing sauce, with lettuce and cheese on a flour tortilla. Served with blue cheese or ranch dressing. Cathy's favorite!
Cajun Chicken Wrap
$9.25
Our Cajun Chicken with romaine lettuce, black olives, cheddar cheese, tomatoes and ranch dressing on a flour tortilla
The Un-Beef Sandwich
Boneless chicken breast marinated in our Hawaiian marinade and served on an onion roll with lettuce, tomato and mayo
Chicken Clubhouse Grill
$10.25
Marinated chicken breast topped with thinly sliced ham and swiss served on an onion roll with lettuce, tomato and mayo
BBQ Chicken Sandwich
$9.25
A smaller version of our Texas Chicken served on an onion roll with lettuce and tomato
Grilled Cheese
$6.95
1/4 lb of cheese layered on tomatoes and diced onions served on dark rye. Joanie's favorite
BBQ Pulled Pork
$9.50
Slow cooked, tender & juicy pork served on an onion roll, lightly topped with our own BBQ Rib Sauce
Reuben
$9.50
Our home cooked corned beef piled high with sauerkraut and topped with a splash of 1,000 Island and Swiss cheese. Requires lots of finger lickin'
Grouper Sandwich
$10.95
Succulent grouper filet served on a toasted bun with lettuce and tomato
Crab Cake Sandwich
$10.95
Meaty Maryland style crab cake served on a gourmet bun wit lettuce and tomato
---
Other Fixin's & Side Dishes
Silverado Chili full of meat and beans, It's Hearty!
Homemade Soup of the Day
We do this from scratch over the campfire
---
Homemade Specialty Salads
Choice of dressings: Creamy Honey Mustard, Balsamic Vinegar & Olive Oil, French, Creamy Garlic, Ranch, Sesame Ginger, Blue Cheese, Italian, Thousand Island or FAT FREE Raspberry Vinaigrette
Grilled Chicken Salad
Tender pieces of marinated chicken sprinkled with black olives, cheddar cheese, tomatoes, cucumbers and onions, served on a bed of lettuce
With Crispy Chicken
$10.75
Caesar Salad
Romaine lettuce, parmesan, croutons and Caesar dressing
With Lemon Pepper Chicken
$9.75
Gourmet Salad
$7.95
Greens, cheese, bacon, olives, green pepper, tomatoes and cucumber
Spinach & Chicken Salad
$9.95
Marinated chicken pieces tossed with mushrooms, tomatoes, cucumbers, onions, shredded Swiss cheese served on a bed of spinach
Teriyaki Steak Salad
$10.50
Marinated top sirloin served on greens with tomato, cucumber and shredded Swiss
Dinner Salad
Served With a Sandwich
$2.95
Served with Chili or Soup
$8.50
---
Kid's Corral
$5.25; "Little Vittles" for the younger buckaroos! Your choice - For 12 years old or under when accompanied by an adult. All kids meals include apple sauce and fries
Hamburger
Hot Dog
Chicken Fingers
Chicken Sandwich
Grilled Cheese
Mac & Cheese
---
Dessert
Mud Pie
$5.00
Coffee Mocha Ice Cream on a chocolate wafer crust with chocolate fudge & whipped cream
Apple Round-Up
Sliced apples baked with cinnamon, covered with a dark rum and brown sugar sauce & topped with whipped cream
With Vanilla Ice Cream
$4.50
Chocolate Sundae
$3.50
Vanilla Ice Cream, chocolate sauce, whipped cream & a cherry
---
Soft Drinks for the Parched Partner
---
All Day Noon Bears Games
Cheese & Fries
$0.50
Extra
Mugs of (Pbr & Miller Lite)
$1.00
---
Monday Night
Half price
---
Monday & Tuesday
24oz bombers, $4. Choose one
Miller Lite
Miller Genuine Draft
---
Wednesday
---
Thursday Night
---
Friday Night
4:30 pm to 6:30pm. $2 hand carved. $13 bucket of 5 miller's
---
Do you like this restaurant?
The Silverado Grill Reviews

Back to Top